Do you have problems with cure rates? It could be your storage procedures. Here's why... Ultraviolet light and ozone cause the most damage to rubber parts in storage. They should be stored in a cool, dark, dry place, away from direct sunlight. Additionally, extreme environmental conditions and exposure to oils, solvents and corrosive materials can adversely affect the operation and life exp...
Read more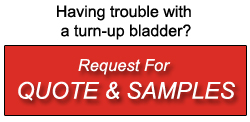 Contact Us Today!
Please call today to get in touch with a representative in your area.

Email
sales@picoworldwide.com

Phone
1-800-237-1713
or
203-483-0312
Testimonials
Polymer makes bladders from our mold and to our specifications. Their integrity and confidentiality have worked for us for the past eighteen years.
European International Customer